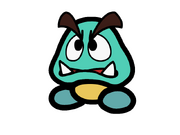 Calm Goomba is the counterpart of 
Rage Goomba
. He has Psychic Attacks which can make Mario Confused making him Attack himself.
Him and the Rage Goomba resemble the Red Goomba and the Blue Goomba from PM.
His name is Calm Goomba, but he hasn't a Calm Face.
Calm Goomba

Stats

HP
7
Def.
2
Attacks
*Psychcic Beam (-2 HP, 15% chances of confusion)

Calm Mind (+1 Atck, +1 Def.)
Psychoboost (-1 HP, 65% Chances of Confusion)
Psychic Call (calls a Rage Goomba or another Calm Goomba)

Other attributes
Items dropped and Possibilties
Edit
Creamy Lollipop (30% Possibilities)
Tasty Tonic
Yoshi Cookie or Big Cookie (10% Chances)
Jelly Ultra (0.34% Chances)
Ad blocker interference detected!
Wikia is a free-to-use site that makes money from advertising. We have a modified experience for viewers using ad blockers

Wikia is not accessible if you've made further modifications. Remove the custom ad blocker rule(s) and the page will load as expected.